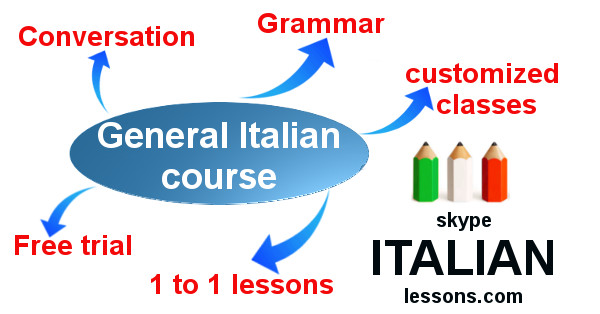 Personalized 1-to-1 lessons
General Italian is my most popular and comprehensive skype Italian course. It is available at all levels and is based on vocabulary, grammar and pronunciation activities.
These lessons are tailor made and designed to meet your personal wishes and objectives.
General Italian lessons provide a strong foundation for everyday Italian communication.
These lessons are created to build your vocabulary from day one, discussing different and interesting topics and helping to fix mistakes in your pronunciation and grammar.
During our Italian language lessons we'll work to develop all the "four skills": speaking, listening, reading and writing.
General Italian lessons will focus also on conversations. We'll practice together speaking based on everyday situations which will boost your confidence, vocabulary and fluency in English.
During our skype Italian classes we can put together an individual language and cultural training programme. We can talk about the issues that matter with up to date discussion regarding current affairs around the world or in Italy. A great way to keep up to date with your vocabulary and discuss real life situations with a native speaker.
The course can be from one week to several months. We can plan one or more skype Italian lessons per week.
All learning materials are provided free of charge, I provide all the teaching materials, there are no extra charges.
Conversation practice

Vocabulary

Grammar explanations

Exercises

Reading practice
Still not sure about this Italian course?  Take a free trial lesson to find out more.